MOTHER'S DAY MEMORIES

A few years ago our church held a mother-daughter tea in the church
gymnasium (due to the large size of our congregation.) All mothers and
daughters were invited to share poems, songs, etc. as the entertainment for
this affair. During this banquet our pastor's wife asked if anyone had
something special they would like to share about their mother. My then ten
year old daughter told me she had something to share. I explained to her
that whatever she had in mind, it was not what they were looking for...
These things needed to be approved ahead of time! I explained.
She said sincerely, "I know exactly what I want to say."
Embarrassed at the thought of her getting up in front all those
people, saying only God knows what, I assured her it was not what they
meant.
Before I knew it my daughter had slipped away and asked if she could
share a little something about her mother. I was shocked (to say the
least!) when I saw my daughter approach the podium.
Without a stutter or a stammer my daughter proceeded to share. "I
have the best mother in the world and I love her very much! She has given
up a lot for me. I have asthma. Many nights my mother has gone without
sleep to care for me. She quit her job to stay home and take care of me.
A lot of times I've had to stay at the hospital for days but my mother
never left my side, she slept in a chair right by my bed. I just wanted
to say to my Mom this Mother's Day: 'I love you Mom and thank you God for
giving me the best mother in the world.' "
As I wiped the tears from my face I looked around, I could see tears
flowing throughout the gymnasium. I could also see that these mothers were
blessed too as they shared this very special Mother's Day moment with me.
Children are truly a blessing.
This Mother's Day memory holds a very special place in my heart. Much
like my daughter, I guess, I want to share His blessings.




Our destiny is not a matter of chance, it's a matter of choice.
Success is not something we wait for,
but, rather something we should pursue.

Let us not just wait for extraordinary opportunities to find us.
Rather let us seize common everyday occasions and make them great.
Opportunities will often come disguised in the form of unsolicited mail, promo pieces in the email, misfortune, or temporary failure.

We can all start right where we are.
Distant pastures always look greener. At this very moment,
each of us are standing right in the middle of golden opportunity.

Let us resolve to act on our dreams to make them our own.

Sign My Guestbook

View My Guestbook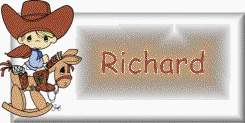 ICQ # 30307828