As long as I live, I won't forget when I met Alvin C. Hass for the first time in 1991. The other inmate in the prison class didn't use the name "Alvin Hass" when he introduced us - not even close! He introduced Alvin as "Bonehead." Immediately, I felt uncomfortable with Alvin's nickname. The tall, soft-spoken inmate wouldn't look at me as he shook my hand.
Needless to say, "Bonehead" was bald-headed. The hair that he had on the sides went way down past his shoulders. I felt as though I were staring at him and tried not to look. But there was a large (and very intimidating) tattoo on top of his bald head. (Yes! A tattoo on his head!) The tattoo was of Harley-Davidson wings and covered the entire top of his head.
As a teacher, I try to maintain excellent composure during stressful times, and I made it through that first day of class. At the end of the period, "Bonehead" slipped me a note while he was filing out of the classroom. I thought, "Oh no! He's telling me that I'm going to be 'taken out' by his other "Harley" buddies if I don't give him a good grade or something like that." A little later, I had a chance to read the note. It said, "Teach (he always called me "Teach"), breakfast is an important meal and if you're not in by then you're in big trouble! - Bonehead, the Mountain Hippie."
Bonehead completed a series of six classes with me over many months. He was an excellent student who seldom spoke. However, he handed me a note nearly every day with some type of saying, tidbit, anecdote or other wise advice for life. I looked forward to receiving them and became a little disappointed if by chance he didn't give me one. I still have them all today.
Bonehead and I clicked. Somehow, I knew that each time I opened my mouth to teach, he understood me. He silently soaked up everything I said. We were connected.
At the conclusion of the course, each student received a certificate. Bonehead had completed the course doing excellent work the entire way through and I was excited to give him his certificate.
We were alone when I presented his certificate of completion. I shook his hand and briefly told him what a pleasure it was to have had him in my classes and that I appreciated his hard work, excellent attendance and superior attitude. His response stayed with me and continues to make a deep impression on my life. In that soft voice of his, Bonehead said, "Thank you, Larry. You're the first teacher in my life that ever told me I did anything right."
As I walked away, I was awash with emotion. I could hardly hold back the tears thinking that in all of Bonehead's growing-up years, no one ever told him he had done anything right.
Now, I'm from the "old school." I was raised in a conservative setting and I believe criminals must pay for their wrongdoings and be held accountable. Yet I've asked myself several times, "Could it be, by chance, just by chance, that Bonehead's never hearing 'You did that right' or 'Good job' might have had anything at all to do with why he ended up in prison?"
That moment's experience implanted into my heart the desire to make sure I acknowledge, in a positive way, every student that does something "right."
Thanks, Bonehead, for telling me that I, too, did something right.
-------------------------------------------------------
By Larry Terherst from A 3rd Serving of Chicken Soup for the Soul
Copyright 1996 by Jack Canfield and Mark Victor Hansen

TO SUBSCRIBE TO MY NEWSLETER E-MAIL ME AT--

Sign My Guestbook

View My Guestbook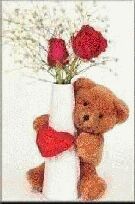 RICHARDS HEART
WHITE LAKE , MICH

VOICE MAIL-- 1-586-612-3032

THANKS FOR VISITING MY WEB PAGE


RICHARDSWORLD

>
---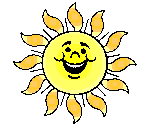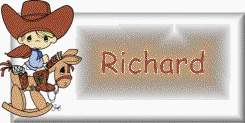 Sign My Guestbook

View My Guestbook
>